Where can you follow The Focused Filmographer?
Twitter: @FilmsWith_T
Facebook: www.facebook.com/TheFocusedFilmographer
Email: Subscribe by entering your email in the subscribe box in the righthand margin of the page. >
Never miss a post! Stay in the know!
Greetings all,
Today, here are quick mini-reviews for: Delivery Man and Frozen.
Directed by: Ken Scott (Starbuck -the film on which Delivery Man is based)
Starring: Vince Vaughn (Wedding Crashers), Cobie Smulders (The Avengers), Chris Pratt (Moneyball) and more.
Rating: Rated PG-13 for thematic elements, brief language and sexual content.
Trailer: 
Synopsis: "DreamWorks Pictures' "Delivery Man" stars Vince Vaughn as affable underachiever David Wozniak, whose anonymous donations to a fertility clinic 20 years earlier resulted in 533 children. David must now embark on a journey that leads him to discover not only his true self but also the father that he could become."
Review:
Vince Vaughn.
Some people like him, other people tolerate him. I know few people who completely disapprove of his movies, but I'm sure there are some that do. That being said, it is a valid criticism that so many of his comedies are laced with a bit of over-sentimentality and superfluous plot points mixed with his characters' "mile-a-minute" mouths and hands that always are the source and solution for trouble.
However, I quite like this Minneapolis native and several of his movies.
Wedding Crashers, Mr. & Mrs. Smith, The Dilemma, The Break-Up, The Internship, Dodgeball, Couples Retreat, Old School, The Watch, etc. Yes, there are a few stinkers in that list. That is, by far, not a list of favorites of mine, but looking at all of them and more, I can understand why people may not like his movies and see all of his characters as one and the same. But he has a certain spark, energy and enthusiasm that can be reeled in for those serious and/or sappy moments and he does it well. The Delivery Man is one example of him at his best in doing what he does best.
A remake of a French-Canadian film entitled Starbuck, Delivery Man is both written and directed by the same team of the original and is an improvement on the normal Vince Vaughn cinematic offerings. That being said, it still is a Vince Vaughn film and some people will want to watch it because of that and others not so much. The story, while a bit impractical, still manages to tug at the heartstrings amid laughter and finds a nice balance to please its viewers. A movie that touches the subjects of self-improvement, responsibility, love and life, Delivery Man delivers more than anticipated and is not a waste of time. It's good to see Vaughn taking roles with a bit more developmental weight. The cast, aside from Vaughn, Pratt and Smulders, is full of no one so memorable and thus makes their characters' inclusion a bit more realistically enjoyable.
(I will say I was annoyed by the fact that the entire movie takes place in NYC and not a single person in the film has a New York accent.)
All in all, a nice film, predictable but not overdone, that carries an equal amount of love, life and laughs. Not everything in the movie was in the trailers and not everything in the trailers was in the movie. I appreciate that. Not a bad job overall, Vince Vaughn.
SCORE: (3/5 stars)
———————————————————-
Directed by: Chris Buck (Tarzan) and Jennifer Lee.
Starring: the vocal talents of Kristen Bell, Idina Menzel, Jonathan Groff and more.
Rating: PG for action and mild humor
Trailer:
Synopsis: "When a prophecy traps a kingdom in eternal winter, Anna (voice of Kristen Bell), a fearless optimist, teams up with extreme mountain man Kristoff (voice of Jonathan Groff) and his sidekick reindeer Sven on an epic journey to find Anna's sister Elsa (voice of Idina Menzel), the Snow Queen, and put an end to her icy spell. Encountering mystical trolls, an amazing and comedic snowman named Olaf, Everest-like conditions and magic at every turn, Anna and Kristoff battle the elements in a race to save the kingdom from destruction."
Review:
Be prepared: Frozen will warm your heart.
This is the Disney animated film that so many fans of the mouse have waited for for years! Disney's latest film goes back to company's roots with this delightful story that will melt your heart and please your ears.
In a style not too far away from the likes of Aladdin, The Little Mermaid, Beauty & the Beast and The Lion King, Frozen presents a wonderful true-to-yourself, coming of age story blended with beautiful animation, astounding 3D effects, delightful characters, fitting and memorable songs (including two favorites of mine entitled "Do You Want to Build a Snowman" and "Let it Go" that should be considerations for best original song come Oscar season).
As soon as the movie began with a musical intro that took me back to watching The Lion King for the first time, I knew this was going to be a treat. And it was. A treat for the eyes, the ears, the heart and the soul. A story of sisters, love and friendship, Frozen heats up the competition for best animated movie of 2013 and will be a tough one for other competitors (Monsters University, The Croods, Despicable Me 2, etc) to beat. Though the characters may resemble other characters from previous Disney films, they have a great story and the overall adventure makes this film as unique as a snowflake.
Where Frozen has a little bit of trouble is in its middle. After such a brilliant, impressive and amazing beginning it shares a misstep common to many animated features and loses a bit of the magic as the plot thickens. I said "a bit" since it still stays highly enjoyable through the comic relief of a carrot-eating reindeer and a talkative snowman (whose scenes are not overdone) who naively longs to experience a warm summer's day. (The formula of animal sidekicks for comic relief is a strong one that continues to work for Disney. i.e. Tangled, The Little Mermaid, Aladdin, Pocahontas, etc.)
It's thread of the bond of family/sisters and their relationship with one another keeps this film together and all of the parts of it…the magic, the music, the people…all very beautifully fit into the story as it is told. It is as if the people who now work at Disney all grew up in the 80′s and 90′s, watched the same magical films with great music that I did, then got disappointed with the way Disney strayed away from that style, got hired by Disney, and decided to bring a film back in the style of what was such an endearing part of our childhood. Scenes in Frozen will remind viewers of scenes from the market in Beauty & the Beast, to scenes in the forest from Tangled, to scenes from Lion King, The Little Mermaid and more.
If you liked Tangled (and even if you didnt), or if you've felt let down by Disney films since Mulan (the last good ballad-laden Disney animated feature), or if you are looking for another great Disney film to take the kids to, THIS IS IT. Frozen is such a heart-warming movie that moves the emotions, adds great music and pleases in more ways than one. A memorable animated film that I am already ready to own on Blu-ray. Disney is back and Frozen is simply magical.
A few things of note:
Do not show up late and then miss the FANTASTIC short animated feature that precedes the movie. It is a great mixture of past and present and is not to be missed.
There is a cute short scene at the end of the credits.
You MUST see this in 3D. I don't say that often and this is a MUST! It is so immersive and so very well done.
Prepare to be singing the songs for a few days after. Just like people still do from Disney classics of old. (I'm still singing the songs from it!)
Frozen (Score: 4/5)
———–
(Remember, to read this review of mine and over 250 more, check out THE ARCHIVE of movies I have reviewed anytime. Know before you go…or rent…or buy!)
Thanks for reading! Happy Watching!
-T, The Focused Filmographer
Welcome to this week's edition of "Movie News Monday!" ("MNM!") 
What is 'MNM' all about?
In case this is your first time here, "Movie News Monday!" (MNM) is the place to visit on Mondays for a quick recap of trending entertainment news! I've collected info, rumors, etc from all over just for you to keep you updated on movies being released, actors/actresses in roles, dvd releases to keep a lookout for, which movie won in the box office over the weekend, etc! Are you ready for your weekly update? Here it is!
This Just In!!…
#1- "The Weekend Winner."  Last weekend, 2 wide new releases entered the box office arena and hoped for the top spots. And it is no surprise that The Hunger Games: Catching Fire took the lead, but it also broke a few records. THG:CF now has the record for the largest opening of any 2D movie ever and the largest November opening period! Wow. On another note, I'm also glad to see Thor: The Dark World still doing well.
Here are the weekend's estimated results for Fri, Nov 22-Sun, Nov 24:
The Hunger Games: Catching Fire ~$161.1M
Thor: The Dark World ~$14M
The Best Man Holiday ~$12.5M
Delivery Man ~$8.2M
Free Birds ~$5.3M
Last Vegas ~$4.4M
Bad Grandpa

~$3.5M

Gravity

~$3.3M

12 Years a Slave

~$2.8M

Dallas Buyers Club ~$2.7M
*Actuals may vary as earnings are updated much later on Monday afternoons. For updates, visit boxofficemojo.com.
Congratulations to The Hunger Games: Catching Fire (Check out my review).
What did YOU watch this weekend?
#2- "Return to Wonderland." Disney has announced the release date for the upcoming sequel to the 2010 live-action adventure of Alice in Wonderland. The sequel, currently tentatively titled simply "Alice in Wonderland 2," is scheduled to release in May 2016 over Memorial Day weekend…seven months after the intended release of the upcoming live-action "The Jungle Book" movie that is being directed by Jon Favreau.
Not only is the release date big news for Disney, but also the return of actors Johnny Depp and Mia Wasikowska who have officially signed on to reprise their roles as the Mad Hatter and Alice respectively. The first film, which was met with rather mediocre reviews and has a 51% rating on RottenTomatoes, did have great level of visuals which is expected to continue in this film with a synopsis still yet to be revealed.
Director Tim Burton will not be seated in the director's chair for this sequel. That seat now belongs to James Bobin who directed The Muppets (2011). More on Alice 2 as the story develops.
Are you interested in this sequel?
#3- "Official Avengers" The Marvel sequel that fans all over the world are anxiously awaiting is on the way. The Avengers: Age of Ultron is on the horizon, and, while mention of two castmembers has been floating in the air for a few months now, it is now official:
Elizabeth Olsen and Aaron Taylor-Johnson will be The Scarlet Witch and Quicksilver (respectively) in 2015 comic adventure.
Posted on Marvel's site today (see HERE), here is an excerpt from the announcement:
Aaron Taylor-Johnson and Elizabeth Olsen have officially joined the Avengers family as the brother-sister duo of Quicksilver and Scarlet Witch in Marvel's "Avengers: Age of Ultron," the highly-anticipated sequel to 2012′s smash-hit "Marvel's The Avengers"! "Avengers: Age of Ultron" arrives in theaters May 1, 2015…

…Taylor-Johnson and Olsen will share the screen as leads in the highly anticipated "Godzilla" remake scheduled for a May 2014 release.

"Avengers: Age of Ultron" will bring the Marvel Universe's biggest heroes together again to face one of their biggest villains, with "Marvel's The Avengers" director Joss Whedon returning to write and direct the sequel. "Marvel's The Avengers" was released in 2012 and went on to earn $1.5 billion worldwide, making it the third-largest grossing movie of all time.
The Avengers: Age of Ultron also brings back the cast of The Avengers under the direction of Joss Whedon and is a highly anticipated installment of the mighty Marvel movie movement!
What do you think of this casting news being official? 
#4- "Gran Turismo races to the Movies." With the Fast and Furious franchise revving up for another installment and recently with star Paul Walker promising there will be an 8th and 9th film AND with the addition of the Need for Speed (see the trailer HERE) videogame franchise also getting it's own movie with actor Aaron Paul in the driver's seat, why not give Playstation's greatest racing franchise a run at the movies as well?
[As much as I love racing games (I'm a FORZA fan myself), I am not excited to see this trend take off but here you go.]
The Gran Turismo movie has actually been in development through Sony for a couple of years now but developments seem to be taking off. Screenwriter Alex Tse who penned the screenplay for Watchmen has been approached to write the script for this upcoming videogame-based movie.
"The movie that we're gonna do is kind of really a wish-fulfillment fantasy that this kid plays this video game and ultimately goes from this video game to actually racing the race cars."
Read more at http://collider.com/gran-turismo-movie-alex-tse/#qCJGBOcsDJJD7VuX.99
Tse is working on the script now and more details are assuredly to come in the next year.
What are your thoughts on this? 
#5- "This Week's Blu-ray release." This week, look for the following films on Blu-ray to possibly add to your collection:
RED 2- The DC comics continuation starring Bruce Willis, Helen Mirren, Mary-Louise Parker, John Malkovich and more was sadly more forgettable than it was enjoyable. I loved the first one and the second finally releases and is a fun watch for the moment, but may not be one to buy. Read my full review HERE.
Several other films also release this week. Check it out!
Also releasing:
Getaway (

my review

)
Jobs
The Canyons
…and more.
Which will you pick up?
——-
Well, that's it for this round of "Movie News Monday!"
Thanks for reading! Happy Watching!
-T, The Focused Filmographer
up next: Review for Delivery Man
Happy Sunday! It is time, once again, to check out all of the…
As you know I love checking out and collecting movie posters! With teases of what to expect from the featured film, posters are one of my favorite parts of the whole cinematic experience. If you love movie posters like I do, then you are likely to enjoy the latest ones of the week!
It's that time again, and, as usual my friend, Bubbawheat (from Flights, Tights and Movie Nights) and I both share our thoughts on the movie posters recently released. These silent movie promoters are the results of the creative brainstorming of some talented (most of them) artists and sometimes can be even more thrilling than the movie they are advertising. Take a look at this week's batch: (To view the fullscreen slideshow, click on any one of the posters below and scroll through with the arrow keys.)
—
Thoughts:
TheFocusedFilmographer-
Since it's been a little bit since we looked at posters, quite a few came out that are deserving of some attention. Let's get right into it, shall we?
At first, I didn't like the poster for Divergent. It has that weird "is it animated? is it real?" kind of look to it. And then I remembered that it is based on a book and the poster looks like those shiny gloss paperback book covers on the shelves of Barnes & Noble. Fitting. Now I like it. Enemies Closer intrigues me only because I don't know if Van Damme is who the warning is for…or against. I'll be honest in telling you that I was disappointed by the Noah poster only because I would've expected at least a portion of the Ark to be present.
The yellow tint usage for Sunlight Jr. is appropriate although I have no real interest in what appears to be a romance film with Matt Dillon. Love the Maleficent poster. Her costume…those eyes…it all looks GREAT. The Secret Life of Walter Mitty is another favorite although I have a suspicion that the posters and trailers for this remake will ultimately be better than the film itself…
How to Train Your Dragon 2 is obviously one of my favorites of the week. And to see Hiccup grown up with that sweet helmet…I can't wait! Lastly, I'm glad they have kept the old school look for Grudge Match.
My faves of the week: How to Train Your Dragon 2, The Secret Life of Walter Mitty and the int'l poster for Lone Survivor.
—
Bubbawheat-
There's obviously a ton of posters this time around and so there will be quite a few nice ones. I'm with you on Maleficent, I think she looks great and I'm always a fan of fairy tale adaptations with only a few exceptions (*cough* Mirror Mirror *cough*). I'm really excited for How To Train Your Dragon 2 as well, Hiccup looks great with his older and more mature look for him. The Lego Movie is another great poster even though it's different from most of these posters in that there is a ton going on in this poster, where most of the rest are much more simple. Walter Mitty is another one of the few with a lot going on in it, I have already read one mediocre review for the movie from a festival showing that could give your theory some weight, but we'll see.
I'm not always a fan of the sliced up style posters, but I think that Repentance makes it work with the washed out color pallate. Enemies Closer looks like it could be a classic Van Damme movie, but it has a much more modern look to it. I do still like how Grudge Match has kept the classic look, but I do also think that this one isn't as interesting as any of the earlier ones featured. I'm also underwhelmed with the Noah poster, especially since there have been so many dark posters with a central figure in the middle with his back to the camera.
My faves of the week: How to Train Your Dragon 2, The Lego Movie and Repentance
—
Well, what do YOU think? Which ones are your favorites in this spotlight? Which ones do you like/hate and why? Leave a comment!
—
Special thanks to Bubbawheat of Flights, Tights and Movie Nights for joining me today in sharing the New Posters of the Week.
-T, The Focused Filmographer
up next:
Review for Delivery Man
Movie News Monday!
The Hunger Games: Catching Fire
Starring: Jennifer Lawrence (Silver Linings Playbook), Josh Hutcherson (Journey 2: The Mysterious Island), Liam Hemsworth (The Expendables 2) and more.
Directed by: Francis Lawrence (I Am Legend, Water for Elephants)
Synopsis: "THE HUNGER GAMES: CATCHING FIRE begins as Katniss Everdeen has returned home safe after winning the 74th Annual Hunger Games along with fellow tribute Peeta Mellark.  Winning means that they must turn around and leave their family and close friends, embarking on a "Victor's Tour" of the districts.  Along the way Katniss senses that a rebellion is simmering, but the Capitol is still very much in control as President Snow prepares the 75th Annual Hunger Games (The Quarter Quell) – a competition that could change Panem forever."
Rating: Rated PG-13 for violence, fight sequences, alcohol usage and mild thematic elements.
Must-Watch Trailer:
The odds were in the favor of this sequel as soon as the first one ended!
Under the direction of Francis Lawrence (as opposed to Gary Ross who directed the first installment), this sophomore installment of the franchise that has caught fire and continues to be hot is a prime example of what sequels ought to be.
Think of some great sequels Star Wars: Episode V -The Empire Strikes Back, Spider-Man 2 and The Dark Knight all come to mind. In a time in which sequels usually disappoint there exist a few that remain spectacular. (Next month's release The Hobbit: The Desolation of Smaug has some expectations to meet up to.) The Hunger Games: Catching Fire is one of those few and, dare I say, takes it further and is better than its predecessor (my review of the 1st Hunger Games movie HERE).
Whether it be the new director, or the new budget increased by more than double the original, the content of the book or the familiarity of the cast with the characters whose parts they reprised, (or perhaps a mixture of all the above) The Hunger Games: Catching Fire impresses even more with its story; the approval, indifference and/or hatred for the characters; the action; and the various underlying plotlines that serve as the powerful undercurrent and driving force of the persecuted peoples of Panem.
Along with the actors who take on the mantle of being the characters that we loved from the first one once again we also get introduced to some new members who also play their parts pretty flawlessly. A few worthy of note include Jennifer Lawrence, Stanley Tucci, Josh Hutcherson (who seems to have grown into his character even more), Woody Harrelson, Donald Sutherland, Philip Seymour Hoffman, Sam Claflin, Jeffrey Wright and more. Not a single performance seemed forced or fake and the emotions in every scene came through largely in part due to their fantastic performances.
Thankfully, Lawrence (Francis, not Jennifer) opted to avoid the annoying amount of shaky cam usage from the first one (that did serve a purpose to a degree) and chose to keep the extreme cinematography at a minimum in exchange for great visuals, panning shots (such as the shots of the Capitol and processions that appear Roman-esque and Ben-Hur-ish) and character focus.
Not a moment during the entire film is there any remnant of boredom. The film's tightly written screenplay translates on-screen in a fashion that is both engaging and engrossing. From the fight scenes (which again impressively stay rather real even with the limited show of blood), to the chemistry among the characters, to the anticipation for the plot developments to the re-immersion into the arena, to the contrast between the worlds of poverty and plushness so much in this film contributes to the story and the audience experience that, come the end, you will wish that it wasn't a year's wait until the next part (The Hunger Games: Mockingjay Part I releases on Nov. 21, 2014).
This Hunger Games continuation leaves you hungry for more by the time that the end comes. Sighs could be heard all around the theater when the end came as viewers all wanted the story to continue despite how much time had already transpired (much like the end of The Lord of the Rings: The Fellowship of the Ring).
Not only is this sequel full of great action and adventure and fun characters (once again Stanley Tucci entertains as the blinding-white toothed emcee of the games), but it also pays even greater attention to the political issues and their weight in this film through the cinematography, costumes, challenges faced and the characters. Donald Sutherland who plays as President Snow simply radiates the evil of the political leader of Panem and implementer of oppression. I remember being apprehensive and a bit uneasy during his first encounter with Katniss Everdeen in this film. All players executed their parts tremendously well.
More daring and exciting, Lawrence (Jennifer, not Francis) and crew make the characters come to life and cause their fights and peril to become ours as we watch. That effect expected when reading a great book is accomplished with this movie and it is a great adaptation experience. (A side note: As is my usual custom, I do not read books that I know are being turned into movies until AFTER seeing the film. I can't wait to read it, but not knowing what was going to happen really made this film even much more enjoyable.)
Those of you that get to see it in IMAX, enjoy. This featurette really made me want to see it that way and I wanted the effect they reference in this video when the games actually do begin.
I'm not the only one who enjoyed this spectacular sequel. Here are a few comments from readers of my reviews. See what they had to say:
Josh L. -

"Man. Catching Fire is the movie I wanted The Hunger Games to be. So good!"

Andrew C. -

"It was so great!!! Super exciting and intense! One of the best book to screen films I've ever seen!!"

Thomas L. -

"Amazing."
All things considered, I find myself wishing that Francis Lawrence directed the first one, but then, would I still be as impressed with this sequel? I think so. This story of courage, defiance, hope and love continues to burn a fire in the hearts of audiences. Go see The Hunger Games: Catching Fire…it's hot!
My Score: 4.5 out of 5 stars for The Hunger Games: Catching Fire
———-
(Remember, to read this review of mine and over 250 more, check out THE ARCHIVE of movies I have reviewed anytime. Know before you go…or rent…or buy!)
———-
Thanks for reading! Happy Watching!
-T, The Focused Filmographer
up next:
New Posters of the Week

Review for

Delivery Man
Today, November 22, is the birthday of my "movie-wife" SCARLETT JOHANSSON. Widely regarded as one of THE most gorgeous and sexiest women in Hollywood, Scarlett Johansson celebrates her 29th birthday today!
In honor of her birthday today (and my proclaimed neverending adoration and appreciation of her and her beauty), here is a birthday poem I wrote up for her on this special day.
Happy Birthday dear Scarlett,
Born this day with your twin brother
Here's a poem, and to start it
A picture better than almost any other.
While some may not appreciate your acting roles,
(to them I say "Shame on you! Shame!)
it has always been one of my goals
to meet this girl with such a memorable name.
And when we finally did you looked just like this
And I was glad to have seen you there
We served with other heroes protecting the Earth
On a helicarrier high in the air.
Hair either red or black or blonde or brown
I always watch all of your movies.
Having collected almost all that are around
I've seen more than your "would-be" groupies.
Born in the year of 1984
You've starred in several favorite films and more.
From The Avengers to The Prestige to Lost in Translation
You've always been able to rise to the occasion.
Directed by Allen and Whedon and Nolan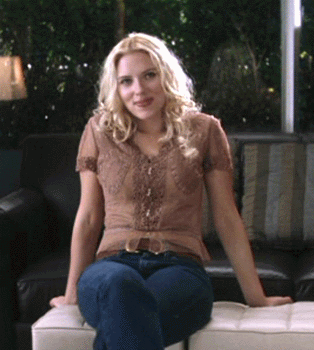 Your career keeps on movin'…and rollin' and rollin'.

Continue to work and grace theater screens
and TVs with your presence
The media loves to make memes
They may be jealous of your essence
So, happy birthday, dear Scarlett
And keep the party rockin'
Perhaps one day we'll meet again
and your scorners we'll spend time mockin'!
The end.
haha. It's no secret that I've had a big crush on Scarlett for many years (calling her my "movie wife"), and through those years I've had to watch other people embrace and/or kiss her instead of me! LOL. So, just for fun, Scarlett, here's a list of all the people you have managed to make me temporarily hate, be jealous of, or wish that I was in the place of at one point or another (click any name below for picture):
Sexiest Woman Alive…twice!
Born in Manhattan.
Acting since the age of 9.
Music enthusiast (fan of Miles Davis, Duke Ellington, Billie Holiday and more), with her own albums out.
…and also was Katy Perry's inspiration for the song "I kissed a girl and I liked it."
Auditioned for the lead in The Parent Trap that went to Lindsay Lohan. (???)
Had her first role (uncredited) in a skit at the age of 8 with Conan O'Brien. Relived in 2005.
(Such a fun video)
Active supporter in politics and has campaigned for politicians such as John Kerry and Barack Obama. Interestingly enough, she was born on the 21st anniversary of the assassination of JFK.
A very talented actress who is continuing her fantastic career.
This slideshow requires JavaScript.
I applaud her efforts, her vocation, her beauty and her dedication and always enjoy her films and her characters in them.
This slideshow requires JavaScript.
Happy birthday, Scarlett Johansson. One of the prettiest women in Hollywood. Enjoy your birthday today!
Sincerely,
Today is THURSDAY!!! And you know what that means!!
It is officially time for another fun-filled edition of "Trailer Time Thursday!"
Here is your weekly fix of "Triple-T" (aka: "Trailer Time Thursday!")!!
In case this is your first visit to "Triple-T," here's what it's all about:
Seeing as how everyone loves movie previews, "Trailer Time Thursday!" was created to bring all of the trending trailers that you may have missed in theaters, or just need to see, all in one convenient place! It makes Thursdays so great! Get ready! Your Preview Pandemonium awaits!
Check them out and ENJOY!!! 
Trailers of the Week: (abbreviated version- all synopses are directly from IMDB.com)
1. RoboCop (int'l trailer).
Starring

: Joel Kinnaman, Michael Keaton, Abbie Cornish, Samuel L. Jackson, Gary Oldman and more.

Releasing

: February 12, 2014.

Synopsis

: "In 2028 Detroit, when Alex Murphy (Joel Kinnaman) – a loving husband, father and good cop – is critically injured in the line of duty, the multinational conglomerate OmniCorp sees their chance for a part-man, part-robot police officer."
—
2. Repentance.
Starring

: Mike Epps, Anthony Mackie, Forest Whitaker, Sanaa Lathan and more.

Releasing

: 2014

Synopsis

: "An earnest life-coach/author, Thomas Carter, is mysteriously abducted by a deranged client, Angel Sanchez, who delves into Thomas' teachings and uses his spiritual messages of Karma – action and reaction (Vipaka), against him to terrorize him and his family for their past sins."
—
3. The Wind Rises.
Starring

: Hideaki Anno, Mirai Shida, Jun Kunimura and more.

Releasing

: February 21, 2014

Synopsis

: "A look at the life of Jiro Horikoshi, the man who designed Japanese fighter planes during World War II."
—
4. Devil's Knot.
Starring

: Reese Witherspoon, Dane DeHaan, Colin Firth, Kevin Durand, Bruce Greenwood and more.

Releasing

: 2014

Synopsis

: "The savage murders of three young children sparks a controversial trial of three teenagers accused of killing the kids as part of a satanic ritual."
—
5. Need for Speed.
Starring

: Aaron Paul, Michael Keaton, Imogen Poots, Dominic Cooper and more.

Releasing

: March 14, 2014

Synopsis

: "Fresh from prison, a street racer who was framed by a wealthy business associate joins a cross country race with revenge in mind. His ex-partner, learning of the plan, places a massive bounty on his head as the race begins."
—
6. Sabotage.
Starring

: Arnold Schwarzenegger, Terrence Howard, Sam Worthington, Mireille Enos and more.

Releasing

: April 11, 2014

Synopsis

: "Members of an elite DEA task force find themselves being taken down one by one after they rob a drug cartel safe house."
—
7. Muppets Most Wanted.
Starring

: Tina Fey, Tom Hiddleston, Ricky Gervais, Ty Burrell, Kermit the Frog and more.

Releasing

: March 21, 2014

Synopsis

: "While on a grand world tour, the Muppets find themselves wrapped into an European jewel-heist caper headed by a Kermit lookalike and his dastardly sidekick."
—
8. Twice Born.
Starring

: Penélope Cruz, Emile Hirsch, Adnan Haskovic and more.

Releasing

: December 6, 2013.

Synopsis

: "A single mother brings her teenage son to Sarajevo, where his father died in the Bosnian conflict years ago."
—
Spotlight Video of the Week:
How Star Trek Into Darkness Should Have Ended.

A funny look from the crew at HISHEdotcom at the sequel Star Trek Into Darkness. It should go without saying that spoilers abound if you haven't seen the most recent addition to the franchise. Enjoy this fun vid.
—
Well, that's it for this round of 'Triple-T'!
My favorite trailers from today: Repentance, The Wind Rises and Need for Speed.
Which ones are your favorites??
—
This Weekend's Theatrical Releases:
Are you ready for the weekend in theaters? Here's what releases this weekend, November 22, 2013:
Wide Release: Delivery Man (my review soon) and The Hunger Games: Catching Fire.

 

 

Limited Release: 

Philomena, Is the Man Who Is Tall Happy? 

 and more.
Thanks for reading! Happy Watching!
-T, The Focused Filmographer
Starring: Domhnall Gleeson (Harry Potter and the Deathly Hallows), Rachel McAdams (The Vow), Bill Nighy (Love Actually) and more.
Directed by: Richard Curtis (Love Actually)
Synopsis: "At the age of 21, Tim Lake (Domhnall Gleeson) discovers he can travel in time… The night after another unsatisfactory New Year party, Tim's father (Bill Nighy) tells his son that the men in his family have always had the ability to travel through time. Tim can't change history, but he can change what happens and has happened in his own life—so he decides to make his world a better place…by getting a girlfriend. Sadly, that turns out not to be as easy as you might think. Moving from the Cornwall coast to London to train as a lawyer, Tim finally meets the beautiful but insecure Mary (Rachel McAdams). They fall in love, then an unfortunate time-travel incident means he's never met her at all. So they meet for the first time again—and again—but finally, after a lot of cunning time-traveling, he wins her heart…There are great limits to what time travel can achieve, and it can be dangerous too. About Time is a comedy about love and time travel, which discovers that, in the end, making the most of life may not need time travel at all."
Rating: Rated R for language and some sexual content.
Must-Watch Trailer:
As the poster states, the creators of Notting Hill, Love Actually and more bring another story in a similar vein of romance and love that usually would make me raise an eyebrow and an excuse as to why to avoid it. BUT…it is fantastic. (If you haven't taken a moment to either read the synopsis above and/or watch the subsequent trailer, please do so prior to reading the rest of this review.)
One of the best movies that I genuinely enjoyed even more than I anticipated. As a movie viewer that has grown tired of the incessant barrage of romantic comedies and their cookie-cutter formula, I was pleasantly surprised by this delightful drama posing as a romantic comedy that blossomed into so much more. Taking every man's dream of having the ability to travel back in time to have a competitive edge on life and making it a vital point in this story kept me engaged throughout the entire viewing.
To steal a line from the photo below: "If I had time travel, I'd probably just go and watch it again!"
Reminding me of several other films (including the first film I ever wrote a review for entitled 11 Minutes Ago), About Time carries with it certain elements similar to the likes of Safety Not Guaranteed, The Butterfly Effect, Back to the Future and other such stories…and I enjoyed every minute of it. If you are a fan of time-travel stories…think of your Top 5 personal favorites…after viewing About Time rest assured it will be a part of your top 5.
This film is more than a romantic comedy. As a matter of fact, I might go so far to say that it is not a romantic comedy and that it is, instead, a great drama with a romance as a spoke in the wheel of a fantastic story that will keep your imagination and wonder and attention spinning. The story, completely fascinating, has the delightful "indie" feel to it that films such as Ruby Sparks, Perks of Being a Wallflower (only not as depressing) and Midnight in Paris have.
Every scene is painted with such character and intrigue from a narrative introduction that eloquently and memorably explains who and what everyone is to a daring dinner date in the dark to an entertaining use of time travel to perfect a night of passion to a walk on the beach to remember, every scene is both beautiful and so full of depth. Impressively, Curtis's movie, as un-realistic as the premise is, is more real and genuine through the characters and their cares and concerns than so many films that may even be "based on a true story."
About Time is a movie about time, about love, about life, about family, about relationships, about selflessness and more, and it is told in so great a fashion. Time-travel being the vehicle used to transport the viewer (and the characters) to the conclusion of the meaning of all of those things in life. Opportunities lost may not be regained and thus the moral of the story being to take advantage and appreciate every opportunity given comes through loud and clear and I think mostly so through the Father/Son relationship portrayed by Bill Nighy and Domhnall Gleeson. There's so much I want to say about this movie, but I can't seem to get my thoughts together in any way that seems coherent, so, indulge me for a moment as I simply type out and share my notes that I wrote while watching the film.
Enjoy:
(My notes taken while watching About Time)
I'm so glad Hugh Grant isn't in this movie.
I feel like I know these characters, or, maybe that I could be the main character. Good writing, good acting.
This "romance" movie is drawing me in…how is this possible??
Oh, if I had time-travel power…the things I would do and change. That's right, Tim (the main character), get that girlfriend!

You know those moments when you can't help but smile for the characters in the movie? To an extent you are smiling 

for

the characters you see in a good situation as the movie draws you into what is going on and then you realize you are smiling as if you are in the scene yourself personally? Yeah, that just happened and it keeps happening. This movie is full of smile-making moments like that.

Every guy (or every person for that matter) wishes at some point to have the power of time travel and the ability to use the information acquired to their benefit. Vicariously living through the main character, every guy who may not be in the theater of their own volition (i.e. the girlfriend and/or wife "dragged" them to it) will quickly forget this "transgression" of their own will and begin to enjoy all of the elements of this movie.

Man, this movie is PERFECTLY cast! I mean…just wow!
It's real. awkward when it's supposed to be. endearing when it's supposed to be…which is almost always.
Not a love story as much as it is marketed to be. It is more of a love story within a "realistic relationship" story
Quick tidbit here: loved the mixture of music from the early 2000s throughout subtly giving the time period of certain events. (Must link to Ruth at Flixchatter's music post from this film.) Link provided here. I also love the rest of the indie soundtrack! I think I will ask for this soundtrack for Christmas.
Amazing chemistry between all of the characters actually, and especially Rachel McAdams and Domhnall Gleeson. They are completely believable in the throes of love, enjoying the beginning of their relationship as is the beginning of any and explores those highs after the quest to find true love. Every "first" is relatable and full of laughter as it is genuine. The film is perfected by these little things.
This familial inherited secret helps Tim realize that life is about the relationships we build and the film uses the entire supporting cast very well.
Goes from happy go-lucky to a bit more sombering just like that but still manages to stay light yet pertinent.
A movie about life, decisions, the reality of no reset button, "time is precious," family togetherness
Full of tender moments that tug at heartstrings and full of nuggets of truth of life, love and happiness. A similar message to that of Hitch and other rom-coms: "Life is not about the breaths you take but about the moments…blah blah blah."
Upon the film's end, I sat in the theater, alone, listening to the final track of the score as the credits rolled (Listen to a soundtrack sampling HERE.) and sat there thankful to the movie gods for giving us a movie that was as fantastical as it was real and one that was far more enjoyable than expected. It is a film that hits home in a reiteration of the importance of family, friends and life and I appreciated the efforts of all involved, so, my sitting there watching the names roll up the screen was my little tribute of acknowledgement and thanks. Expertedly directed, acted out and told, this story was an unexpected delight.
In case you can't tell by now. I really enjoyed this movie. I laughed, I cheered, I worried, I smiled, I hoped, I mourned, I contemplated, I remembered, and I celebrated right alongside Tim and the rest of the characters in the film for every second that I got to be a part of their lives. A beautiful film and one that comes highly recommended by this movie lover.
Sorry this wasn't my "normal" review format. I couldn't put all my thoughts together but just wanted to express my enjoyment of this film. It is touching, endearing, fun, delightful, charming, refreshing and enjoyable.
Check out a few other "normal" reviews from some friends of mine below:
Brian @ CanBabiesDrinkRedBull: HERE (Grade given: A)
Dan @ DanTheManMovieReviews: HERE (Score given: 5.5/10)
Tajuana @TajGreeneMoviesInReview: HERE (Grade given: A-)
My Score: 4.5 out of 5 stars for About Time
———-
(Remember, to read this review of mine and over 250 more, check out THE ARCHIVE of movies I have reviewed anytime. Know before you go…or rent…or buy!)
———-
Thanks for reading! Happy Watching!
-T, The Focused Filmographer