The Revenant.

Starring: Leonardo DiCaprio (Django Unchained, Inception), Tom Hardy (Mad Max: Fury Road, Inception), Domhnall Gleeson (Star Wars: The Force Awakens, About Time) and more.
Directed by:

Alejandro González Iñárritu

(Birdman, Babel, 21 Grams)
Synopsis: "Inspired by true events, THE REVENANT captures one man's epic adventure of survival and the extraordinary power of the human spirit. In an expedition of the uncharted American wilderness, legendary explorer Hugh Glass (Leonardo DiCaprio) is brutally attacked by a bear and left for dead by members of his own hunting team. In a quest to survive, Glass endures unimaginable grief as well as the betrayal of his confidant John Fitzgerald (Tom Hardy). Guided by sheer will and the love of his family, Glass must navigate a vicious winter in a relentless pursuit to live and find redemption. Written by 20th Century Fox"
Rating: Rated R for intense sequences, violence, blood/gore, language, brief nudity and some disturbing images including sexual assault.
Must-Watch Trailer:
Let me begin this review by saying this film is not for the faint of heart. The lengths to which actor Leonardo DiCaprio goes while portraying the frontiersman Hugh Glass during his expedition in the wilderness is intense. This "BOATS" (Based On A True Story) tale of survival is raw, rugged, revengeful and rather unrelenting in telling the events of Hugh Glass's account of his gruesome and gritty 80-day quest in the 1820's northern wilderness of the United States.
This may just be one of my most favorite roles that DiCaprio has ever taken on. His performance made me forget, at times, that it was him.
DiCaprio made me believe he was Hugh Glass and that he was going through the exact same peril that he portrayed. He embodied the essence of Glass and, while he may not win any awards or accolades for this film officially, I applaud his work. List other survival films that rely heavily upon the performance of a singular actor (i.e. 127 Hours, Buried, All is Lost, Into the Wild, Castaway, Life of Pi, etc) and it can be noted that the film's success and/or failure in its storytelling largely rides on the believability of the main character's performance. The Revenant belongs in the upper echelon of lists of survival films that excel in this aspect. (One of the best performances of the year!)
Director Alejandro González Iñárritu introduces viewers into the rough wilderness of the 1820's in a manner that refuses to allow the audience to forget the rugged and rough conditions that existed.
In this, he creates a character in that of the wilderness itself -its unforgiving and unrelenting nature. Immersed into the environment, it created an experience that caused me to grimace, squirm and possibly look away or bite a nail or two during certain scenes that seemed all the more real due to the direction and cinematography used for the storytelling. The violence (both through fighting and through the conditions of the terrain) is in-your-face, realistic, and, at times, extreme. Where Iñárritu tends to lose his way is in the (what I call) "Malick Moves" in which the style emulates that of director Terrence Malick with certain scenes throughout involving visions and unnecessary slow pans of nature and flashbacks that lend little to the overall tale and cause the film to be drawn out longer than necessary for "art's sake."
The film benefits from not only DiCaprio but also a great supporting cast. Tom Hardy plays another accent-toting "Tom Hardy" character that does end up being both a great motivator and villain…perhaps second only to the wilderness itself. Another performance of note is that of Will Poulter who is known more for lighter roles than this. He adds yet another genre to his repertoire of formidable character types. All in all, the supporting cast do exactly that…they support the telling of this incredible tale of survival and revenge and do so without distracting. 
If you have not read the book already (The Revenant: A Novel of Revenge), this film will make you want to. The terrible and life-threatening mauling that Glass received from a bear in the wilderness is far from the only danger that he faced. And while the film makes that scene with the bear one of the worst and toughest realistic scenes I have sat through in a film, he faced far more…and fought back. (And they say that Alexander had a terrible, horrible, no-good, very bad day!)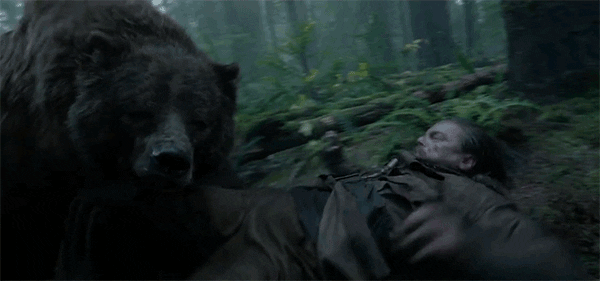 When it comes to survival tales and films based on true stories, The Revenant impresses in nearly every aspect: cast, characters, screenplay, look & feel, etc. Aside from its lengthy runtime of 156 minutes that lacked certain editing, it draws viewers into the rugged uncharted wilderness of the 1820's and guides through the story making for an unforgettable "shared" experience (if you will) that highlights the strength and perseverance of the human spirit, struggle for survival and the power that love for another can bring to each. You do not want to miss this one on the big screen. Go…Now!!
My Score: 4 out of 5 stars for The Revenant.
———-
(Remember, to read this review of mine and over 250 more, check out THE ARCHIVE of movies I have reviewed anytime. Know before you go…or rent…or buy!)
———-
Thanks for reading! Happy Watching!
**Keep missing articles when they post here? Keep missing movie news, trailers and posters?**
**Don't miss any anymore! Be sure to follow on Facebook and Twitter for continuous movie coverage!**
–T, The Focused Filmographer