Black Panther.

Starring: Chadwick Boseman (42, Get on Up), Michael B. Jordan (Creed, Fruitvale Station), Lupita Nyong'o (12 Years a Slave, Star Wars: The Force Awakens), Danai Gurira, Martin Freeman, Andy Serkis and more.
Directed by: Ryan Coogler (Creed, Fruitvale Station)
Synopsis: "T'Challa, the King of Wakanda, rises to the throne in the isolated, technologically advanced African nation, but his claim is challenged by a vengeful outsider who was a childhood victim of T'Challa's father's mistake. – imdb.com
Rating: Rated PG-13 for action violence, language
Must-Watch Trailer:
Every so often in cinematic history, a film comes along that helps define its respective genre and possibly even adds an ingredient to that genre's recipe thus strengthening its appeal and taste for the pallet of the viewer hungry for theatrical satisfaction. A few examples being:
Action – Die Hard
War – Saving Private Ryan
Horror – The Exorcist
Scifi Epic – Star Wars
Romance – Casablanca
Biblical/Religious Epic – Ben-Hur …NOT THIS ONE —->
Buddy Cop – Lethal Weapon (or even Rush Hour)
…to name a few.
Let me name one for you that stirs the pot of superhero movie soup and not only serves to define the oftimes redundant, predictable and eye-rolling genre but also serves to remold the genre and the expectations of it: Marvel's BLACK PANTHER.
In 2008 when Marvel Studios released their first flagship film Iron Man many eyes focused on the newly formed comicbook-based movie studio and its future. Fanboys and fangirls alike cautiously held on to hope that the studio would not disappoint with the screen versions of childhood favorites as had happened before (Looking at you, Fantastic Four…and Fantastic Four AGAIN…and again). Back then, no one in the general public even had an inkling that the Warrior of Wakanda was on the radar for his own movie. Well, after his debut in Captain America: Civil War, Black Panther arrives and has made it clear that he deserves his highlight in the MCU (Marvel Cinematic Universe).
Coupled with an excellent marketing campaign, the superb cast of this film and its connection to the Avengers story arc produced an attraction to the movie greater than any of recent. Black Panther is breaking record after record. Is it deserving? In a word: yes.
Director Ryan Coogler introduces fans to the MCU version of Wakanda (not counting the little clips we get from previous films) and provides such a fascinating and beautiful insight into the world, culture, people and values of the fictional country of Wakanda
and the hidden technological wonderland within it. Black Panther invites viewers to an experience different than that of most in its superhero genre. Captivating audiences through its culture, storytelling, character development, visuals, comedy, passions, risks and hopes of triumph displayed on the screen, viewers may find themselves at times forgetting that it is a superhero movie being drawn in through its strengths and avoidances of most of the cookie-cutter downfalls of its genre-predecessors that are weakened as a result of patterned storytelling.
Black Panther succeeds because it empowers.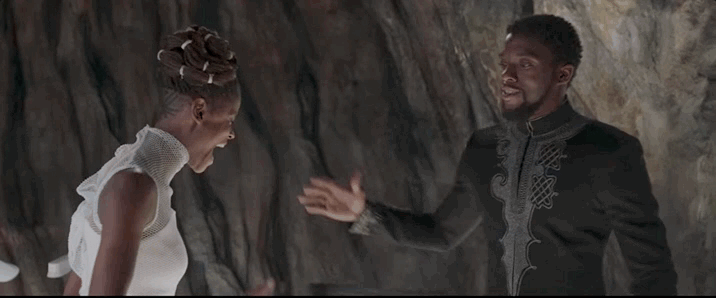 It empowers the viewer to see the genre in a different light; the moviemakers to see that some off-the-beaten-path risks give great rewards; the communities in need through its message of perseverance and values; the children in need/want of a different type of hero to be excited about; the Marvel Cinematic Universe to succeed with stories outside of New York City and not have to explain away the absence of other heroes; and it empowers the writers to realize they can break the curse of weak/forgettable villains and move past the crutch they lean on in Loki (I love ya, Loki, but MCU is using you because they got no one else right now).
I want to highlight the world of Wakanda for a moment. One thing I found wonderful about the film was the way in which the beautiful and stunning country of Wakanda was celebrated, portrayed and protected. That sense of community meant something to the people and it reaches out to the audience as well. This was a major strength in the film throughout.
Think back for a moment. (Warning, if you are not caught up on the MCU films including Thor: Ragnarok, then some slight spoilers ahead exist).
In Avengers, when NY was being demolished…we didn't feel the need to really care. It was more about the action, destruction and beating up the alien invaders. Hulk Smash.
In Avengers: Age of Ultron, when Sokovia was destroyed…we didn't really feel that impact either. More people were upset that Quicksilver got shot up than over the thousands of people that were killed in that battle.
In Thor: Ragnarok, when Asgard is under siege and then destroyed…we didn't even then feel that heartbroken for Asgard and the citizens that were mercilessly slaughtered. Yes, Asgard is the people…I know. But you get my point. Did you bat an eye at the Warriors Three? No. You didn't.
BUT! When Wakanda is threatened, you feel it. You may even want to fight for it. The movie did an excellent job of building up the sense of community and love for the country through its people, portrayed by an amazing cast.
Marvel did it right with this one. While Black Panther is not without its moments of predictability and paint-by-the numbers plots at times, it is strong in its characters, its villains (Michael B. Jordan is now one of Marvel's BEST villains.), its interwoven storylines, its visual presentation, its amount of comedy throughout, and its believability as superhero movies go.
If you do not leave the movie with an even greater appreciation for the character and what direction the MCU decided to go with him, then you need to turn around, buy another ticket and go back and watch it again. I hope that this is the beginning of a new type of superhero movies. One that allows each film to exist on their own but contribute to a bigger picture (much like the comics themselves do). Marvel, keep this page in your recipe book and don't lose it.
Black Panther is making waves! Go see it!
My Score: 4 out of 5 stars for Black Panther.
———-
(Remember, to read this review of mine and over 250 more, check out THE ARCHIVE of movies I have reviewed anytime. Know before you go…or rent…or buy!)
———-
Thanks for reading! Happy Watching!
–T, The Focused Filmographer